Back
5 Feb 2021
Guest Blog by Angela Coulton of Petal and Twig, sustainable florist and grower based in Tarleton, Lancashire. 
February is a time of preparation and anticipation in our business, when we start sowing seeds for flowers which bloom from June to October. We started growing flowers over ten years ago, tentatively growing a few herbs and sweet peas for summer wedding bouquets.
Those first flowers were grown out of frustration that delicate, scented, seasonal flowers had somehow disappeared from the flower industry, now dominated by huge factory farms in Holland, and across the globe. Many roses are now grown in equatorial regions because of the consistent year round climate, and air freighted daily from East Africa and South America to Europe. This global year round supply chain results in out of season flowers with a very high carbon footprint, contributing to climate change.
In many ways we have taken our lead from the chefs and food businesses who have championed sustainability in food. They have focused on seasonal, local produce, and slow, artisanal production methods that lead to food with genuine provenance. It's very much what we are trying to achieve in flowers; a return to flower arrangements led by nature and the seasons, with scent, texture and definitely a little more soul.
Ten years on from our first home-grown blooms, we are growing on a larger scale, with a field full of flowers in Tarleton, West Lancashire. This area, with its fertile soil, is well known for great produce, and the mild climate is perfect for many cottage garden flowers. We grow hundreds of different varieties, many of which cannot be found in mainstream flower markets. We don't use any heat, chemical fertilisers or pesticides and grow the majority of our flowers outside, so our flowers also feed bees and other pollinators. Often, our flowers are picked, arranged and delivered to customers within 24 hours.
So what about Valentine's Day? In February, our spring flowers, tulips, narcissi, ranunculus and anemones are just pushing their shoots above ground, and they are the first sign that spring is on its way. Buds are just forming on early cherry blossom, but there are few other flowers.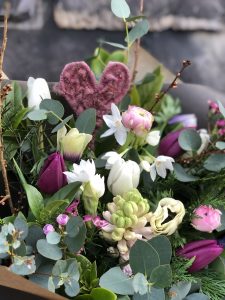 We are lucky to be part of a network of small British flower farms and at this time of year we rely on wonderful scented narcissi from the Scilly Isles, and tulips from Lincolnshire growers who use renewable energy to heat their greenhouses. We add these to our locally grown foliage and twigs to make bouquets that are seasonal, scented and utterly romantic, as well as being much more climate friendly than a bunch of red roses.
---
Petal & Twig love to share their passion for seasonal flowers in hands-on workshops and hope to be back at Moor Hall later in 2021. In the meantime, follow their season from seed to bouquet at petalandtwig.co.uk or follow them on Instagram, @petal_and_twig.
---
Share this