Back
6 Jul 2021
You may have seen the Sous Vide technique in action on popular cooking shows like MasterChef or Great British Menu. It's a cooking method by where food is vacuum sealed in pouches and heated at a controlled temperature for a period of time. It can perfectly cook meat, fish, poultry, vegetables and fruit, containing the natural juices, moisture and flavours to keep food tender without overcooking.
We asked our friends at SousVideTools to tell us a little bit more about their business and how this cooking method can now be enjoyed by both home and professional foodies with ease for perfect dishes, every time.
How did you start?
When we were first approached to launch a range of professional sous vide cooking equipment we only had a vague idea of what the cooking technique was. It felt more for high end, exclusive restaurants who were fans of experimental cooking. It certainly didn't feel big enough for us to launch a business with. But our Italian manufacturer were convinced this was an opportunity not to be missed and even offered to help us set up our business so we had nothing to lose and SousVideTools was born.
A business originally designed for the professional market, quickly became more serious when a home sous vide device we decided to take a chance on sold out, before the product even hit our warehouse (or garage as it was then, with us picking and packing orders each night after our full time jobs, this was a side hustle for us before it was even fashionable to be a side hustle) and we realised that this could be a full time business for both home and professional consumers.
How has it been going?
Fast forward 10 years and we are still here, no longer a side hustle a fully fledged business, supplying our own manufactured products to all manner of professional businesses from our relationship with Moor Hall, to Gastro Pubs, Restaurant Chains, Cafes, Street Food Outlets and everything else in-between.
Alongside our Professional business we have a thriving Home Sous Vide business, which over the last year with the current circumstances has been a lifeline when the world of hospitality has had to close.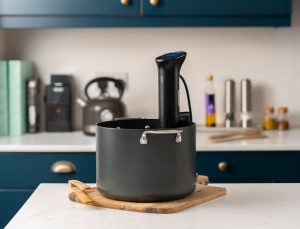 What Makes Sous Vide Cooking Great For The Home and Professional Chef?
Consistency
The accuracy and consistency that chefs need is where sous vide comes into its own, food is cooked at a precise temperature for a set time and every time you replicate that time and temperature you get the same result. Consistency is key to success in the professional kitchen, every time you visit you want the experience to equal or better the last and Sous Vide cooking gives Chefs the ability to give the same results every time. In a home environment knowing you can recreate the same dish, just the way everyone likes, whether it's a Sunday night or a Tuesday lunchtime takes any guess work out of the kitchen.
Set and Forget
The Sous Vide technique is super simple, ifood is vacuum packed into a pouch, then placed in water with the sous vide device set to a specific time and temperature. To make this process even more simple all of our SousVideTools own brand devices have the ability to connect to our app so all you need to let us know is what's cooking. We will suggest the perfect time and temperature and set the SousVide device on its way. Once the food is in the sous vide you can just leave it. A professional kitchen might add a little more into the bag than at home but the technique is the same. There isn't a worry of over or under cooking, as the way the heat permeates the food it cooks perfectly all the way through. No chance of the outside burning and the inside being raw. Even if its left cooking after its time is up it won't burn or dry out.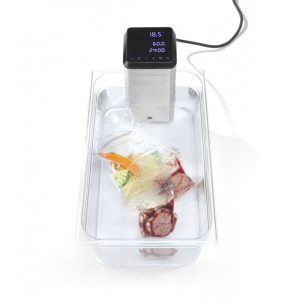 Be Prepared
Professional kitchens are always prepared, allowing them to go from order being placed to being served in as little time as possible. Sous Vide cooking is often low and slow to allow the food to be cooked to perfection, some cooks can be over 24 hrs. The beauty of sous vide though is that food can be cooked in advanced, chilled down and then just bought back up to temperature for a short period of time to serve. Not only does this work for a professional kitchen it works at home too, it means a little preparation batch cook can reap rewards with the tastiest of meals ready quickly whenever you need them.
Perfect Results
Whilst all of the above are great advocates for sous vide let's not forget one of the most important aspects, the food tastes delicious. Its cooked gently with love and care, everything stays in the bag so all the flavour, moisture and nutrients are retained, its cooked perfectly all the way through every time so the first bite is as delicious as the last.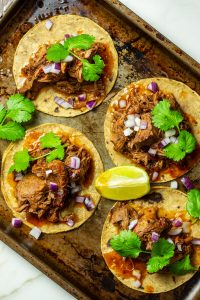 You can read more about SousVideTools and the products they sell by visiting sousvidetools.com or click here to download their latest e-book, packed with tips, techniques and recipes.
Chef Patron Mark Birchall recently tried out the new Kasai Grill from Sous Vide Tools, you can see his dish of  BBQ Cornish lobster tail and skewer with rosehip glaze and fermented green tomato sauce along with the recipe by clicking here.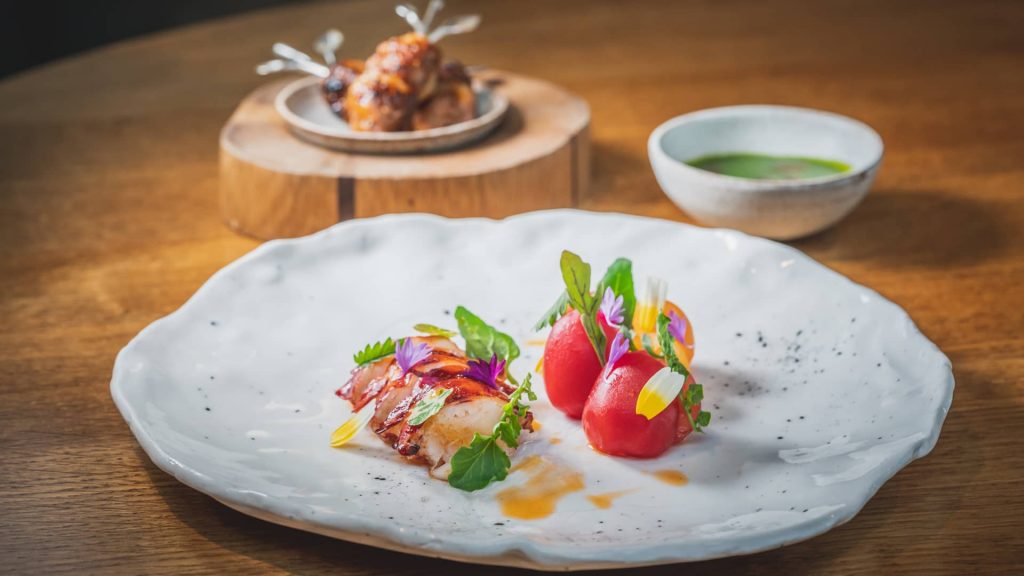 ---
Share this