Back
15 Jun 2022
Moor Hall wins Best Restaurant in England award
Moor Hall Restaurant with Rooms has been named 'Best Restaurant in England' at the prestigious Estrella Damm National Restaurant Awards 2022.
Chef Patron Mark Birchall said he was "over the moon" to win the award, which follows a pattern of recent success for the two-star restaurant.
"After being named number one on their best restaurants list for two years running, we're delighted to be named Best Restaurant in England for 2022," Mark said.
He added: "It's a list filled with incredible restaurants, chefs, and the people who run them, so it's humbling to be included at all. This award goes to the entire team at Moor Hall. It's a group effort and we're so fortunate to have the best team imaginable."
England's best restaurant is in Lancashire
Moor Hall is set within a five-acre estate in leafy Aughton in West Lancashire. Following a turbulent period for the hospitality sector, the last 12 months has seen the team welcome thousands of guests from nearby Liverpool and Manchester, as well as many other places across the UK.
Homegrown ingredients and local produce are fundamental to every Moor Hall menu. And the restaurant is so inspired by its natural surroundings that Chef Patron Mark sees this award as a win for the whole region.
"Bringing this award back home to Lancashire and flying the flag for the North West and its amazing produce means the world to me," he said.
Who decides the best restaurant in England?
Launched in 2007, the Estrella Damm National Restaurant Awards celebrate the UK's rich and varied dining scene.
Restaurants are judged by an elite 'academy' of more than 200 experts. At judging time, the panel of food writers, chefs, and restauranteurs individually choose the seven best restaurants they've eaten at in the last 12 months, ranking them in order of favour. From this preference, the awards committee compiles a list of the UK's top 100 restaurants.
Moor Hall topped this list in 2021 and 2019, with the 2020 awards sadly cancelled due to Covid. In 2022, Moor Hall ranked second on the overall list, but still topped the list of the best English restaurants.
The National Restaurant Awards are owned and operated by Restaurant magazine and awards are presented at an event held each summer at London's exclusive Hurlingham Club.
"It's impressive stuff from a chef at the top of his game, one that marks Moor Hall out as a true Lancashire gem," Moor Hall's National Restaurant Awards listing
Our awards and accolades
The team at Moor Hall are no strangers to industry recognition.
Our restaurant won its first Michelin Star within six months of opening in 2017 and a second star followed a year later. In the latest edition of the guide, Moor Hall was one of nine new restaurants to be awarded a Michelin Green Star. This award recognises high standards of environmental and ethical leadership in the restaurant trade.
Moor Hall has won a series of other awards and accolades. Some recent achievements include:
• 'Restaurant of the Year' at the 2021 Lancashire Tourism Awards
• Five AA rosettes in the AA Restaurant Guide
• Fifth place ranking in the 2020 Waitrose Good Food Guide
In 2022, The Barn – a casual neighbourhood restaurant set within the grounds of Moor Hall – won its first Michelin Star.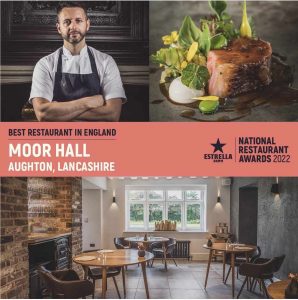 ---
Share this