Back
16 Aug 2023
It's now been 3 years since Moor Hall Restaurant with Rooms and its Chef Patron Mark Birchall collaborated with Sandy Park Café.
The collaboration, which has seen Moor Hall host students from Sandfield Park School on educational visits throughout the year, create seasonal soups and breads to serve in Sandy Park café, alongside financial contributions has been a great success. Thanks to the work experience undertaken at the Sandy Park Cafe, other students have moved on internships at the Marriot Hotel and the Liverpool Women's Hospital. One of these students, Mia, has now secured a job at the Marriot Hotel.
Another success story from the partnership is student Bradley Jackson. The contributions made from Moor Hall have meant that Bradley has been able to garner some invaluable work experience in the hospitality industry as an apprentice, with costs being covered for by partnership.  Bradley has now gained the skills and confidence required to move into an official role, which we're delighted to confirm will be a position in the kitchen porter team right here in Moor Hall at the end of this month.
Mark Birchall, Chef Patron at Moor Hall Restaurant said: "It's a fantastic cause to be involved with, it's really important that all young people are given the opportunity to thrive in the working world. Sandy Park Café gives these students a footing into the hospitality sector along with the confidence and skills to succeed, so to be supporting their vision in an official capacity is great."
You can visit Sandy Park Café at 158A Derby Ln, Old Swan, Liverpool L13 6QQ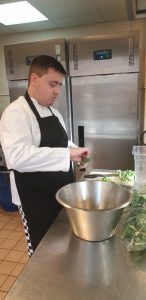 ---
Share this