Back
10 Mar 2023
---
We caught up with Chef Patron, Mark Birchall on menu development and why provenance is key…
Q: How do you develop new ideas for the menu?
A: The provenance menu is called that for a reason because we spend a lot of time sourcing the products. It's a mixture of new dishes and Moor Hall classics. The classics will constantly be refined and improved. The other dishes may be some that have come back on the menu from the previous year which will also have been refined. So, we'll refine as much as possible and then we'll do some new dishes in between.
How do we develop those? It's a case of talking through them and then we'll try them out. We don't have a separate development kitchen. I've never felt the need for that. For me, the best ideas come to me when I'm just in the service and working with the products; cooking, touching, and tasting things. As you're eating things, different ideas tend to just come into your head. The guys get really annoyed with me because we'll be really busy in the kitchen and I'll say, "Why don't we do this?" and then they have to run off and write it down.
Before a dish goes on the menu, we spend time trying it and tasting it multiple times. It's not just about a plate of food, it's also about how it gets delivered to the table.
Q: How do you nurture curiosity to keep coming up with those ideas, both within yourself and within the team?
A: It's difficult. Winter is the most difficult time because there's less fresh produce about. That might be a bit unfair because Summer is my favourite time of year, but it is all about the produce. We might grow something new; we might see a part of a vegetable which we don't normally use; or we might find a new supplier. It's about wanting to find new producers and working with new farmers and growing new things. That's what keeps us making new dishes and what keeps things fresh. It's not really about techniques, although we do use a lot of different techniques to cook, whether that's barbecuing or using a rotary evaporator. It's about starting with the produce and seeing how you can enhance that in the best way. Sometimes you don't have to do anything with that perfect piece of produce but it's about how you marry up some different combinations or flavours just to make that produce sing.
Q: How do you retain consistency when it comes to that point of execution and putting everything together?
A: Consistency is about making sure the people around you understand how you want to deliver something and trying to guide them the best way you can in a fairly pressurized environment. The other thing is probably checking everything throughout the day. Every dish is checked before it's left the kitchen; nothing goes out without either me or one of the senior team seeing it. That's how it's been from day one.
It's nothing crazy, there's no secret formula. You have to trust people to do something and give them the confidence to be able to do it. They have to understand it too. If they don't fully understand it, they're not going to be able to do it properly and if they get it wrong, they lose confidence and it's a snowball effect.
Q: What developments outside of the kitchen are coming up onsite next year?
A: We've just had planning permission approved to get 7 more rooms. They're going to be lodges dotted around the site; two either side of the lake, then five nestled up the back. They're going to be really nice, sustainable lodges with hot tubs. They'll be somewhere between a Scandi and a Japanese style. Hopefully, we'll have those online, later this year.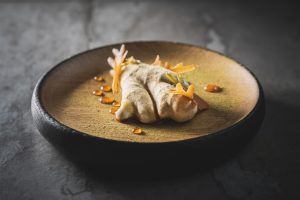 ---
---
Share this