Back
28 Jan 2021
Talk us through a typical day for you.
On a typical morning I would start off with a chat to James our Head Chef. We would go over changes in the menu and discuss any guest or dietary requirements for the day. Next I would go through the table plan with the Restaurant Manager Nefeli to make sure the restaurant is set properly.
After this, it is time to prepare guest's take-home menus, as well as all paperwork necessary for service. I then brief the restaurant team regarding the service ahead and once more make sure everything is spotless and ready to welcome our first guests. During the actual service I am there to supervise the restaurant team and ensure the guests' experience exceeds expectations. After lunch has concluded, we will start the process all over again ahead of dinner service.
How did you first get into the industry?
This is kind of a strange story I suppose. Since my childhood I have always been obsessed with the atmosphere created in a dining room. Some kids dream about becoming a fireman or a policeman…I dreamt of one day becoming a Maître d! However, coming from a family of professionals, when I turned 18 I decided to go to university to study law, in my home country of Belgium. I had no experience or understanding of the hospitality industry except for being a guest!
Time passed and life happened, but my dream very much remained. So, I decided to do the only thing I knew, I went back to university to study Hospitality Management and moved to the UK. I took a role as an investment advisor initially, and on my 25th birthday, I decided it was finally time to pursue my dream. I quit my job and sent out my CV and my story to Michelin starred restaurants…a few weeks later I was in Nottingham working for Sat Bains.
What are your top three highlights from your career to date?
My first job in the industry for Sat in Nottingham. That was the first time I was able to do what I loved and to do so in such a great restaurant was incredible
The different awards Moor Hall received in 2019 – our second Michelin star; being named 'Restaurant of the Year' at the National Restaurant Awards; a #5 ranking in the Good Food Guide (cooking score 9/10) and a 94/100 scoring on La Liste…it was incredible to be recognised amongst so many amazing restaurants, it made all the hard work absolutely worth it!
Finally, my top highlight to date has to be being promoted to Restaurant Director by Mark last year
What's your favourite part of the guest experience & why?
My favourite part by far is the "journey" that we have created for our guests of which we constantly evolve and improve. Indeed, the experience starts as soon as you walk through the door – someone is there to welcome you and guide you to the lounge where you enjoy snacks and aperitifs, you are then shown through to our wonderful garden before going to your table, where you will see many items that feature on our menus. Everything is completely transparent – we usually then invite guests into the kitchen (pre-COVID) before their meal and welcome you to the Cheese Room afterwards. The service really comes into action as soon as you arrive and it is of a standard I'm really proud of.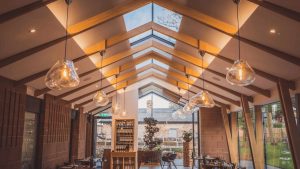 Top reasons to visit Moor Hall?
To discover what we have created, and keep trying to improve daily, with this place. It is truly an outstanding dining experience in an exceptional environment.
Best thing about working here?
For me, definitely the team and the mindset. It is a priceless feeling to spend so many hours with people who are absolutely passionate about their job and constantly striving to be better at what they do.
Favourite way to spend your day off?
I love consistency and routines so a 'usual' day off would always be quite similar, starting with a gym session first thing, then perhaps to visit a new city to see an exhibition – I'm a huge fan of art. Afterwards, dinner in a great restaurant is the perfect ending. My girlfriend works in the industry as well and therefore we work long hours – so we have a tradition to eat out just the two of us every week.
If you weren't a Restaurant Director, what would you be?
I'm not sure I could be anything else if I am being honest. I tried it! This is my dream.
> Click here to apply online today
---
Share this