Back
13 Nov 2020
Talk us through a typical day for you.
After a morning coffee, I'll make sure all orders have come in correctly before starting with fish preparation, whether it be whole monkfish, whole turbot or whole hake. Then I will move onto the shellfish, like super fresh scallops, before checking the sauce section is on track. After this, I'll do some meat prep, ranging from whole venison to aged duck or lamb.
Getting ready for the lunch and dinner services ahead, James (Lovatt, Head Chef) and I will carry out tastings for every section, ensuring all mise en place are seasoned correctly and up to the right standard. During service, Mark (Birchall, Chef Patron), James and I will check all the dishes going out to the restaurant, as well as plating all hot elements on the pass, and orchestrating the service.
I am also lucky enough to be in charge of the charcuterie, a big responsibility as it takes around seven weeks to create from start to finish. Our house-cured charcuterie is a guest's first taste of Moor Hall, served as one of our snacks in the bar and lounge area ahead of their meal.
At the end of the night, I will take all the orders off every section and phone them through. Making sure that nothing is over/under ordered.
How did you first get into cooking?
I have from a young age always wanted to be a chef. I grew up on a farm, planting vegetables and fishing with my Dad, and cooking curries and pasta sauces on the log burners with him. I attended college to do my Levels 1, 2 and 3 and was then lucky enough to work for Aled Williams, which kick-started my career.
What are your top three highlights from your career to date?
I have a lot of career highlights, but if I had to choose three, going in no particular order:
The first would be starting at The Hand and Flowers and working the majority of the sections for two and a bit years, and getting to go to New York alongside Tom Kerridge for a cooking event for British Airways. I helped out with cooking the dishes pictured in some of his books
My second highlight would be working at The Ledbury, which is known for being one of the most challenging, best restaurants in the UK
My third is working at Moor Hall from the opening. It was a brand new kitchen and everyone was new, so it was a hard first year but equally I learnt so much so quickly. All the hard work was rewarded when we gained our first Michelin star as a team
What's your favourite dish & why?
I really like all the dishes, from the barbecued lamb to the carrot or the rhubarb dessert, but if I had to choose just one it would be the turbot dish, with the mussel mousse, artichoke puree, sea herbs and a mussel cream sauce, finished with caviar and pike roe. The dish itself looks simple but there is a lot that goes into it and it all works amazing together.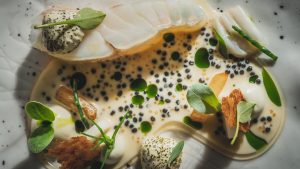 Top reasons to visit Moor Hall?
It is an all-round amazing experience, from the moment you walk through the door. Every detail and every dish has been carefully crafted, from the snacks served in the bar to the flow of the culinary journey in the restaurant itself. We all work really hard to ensure it is the best
The majority of the vegetables we use are grown in our own garden, which guests are welcome to have a look around
We have our own cheese room, charcuterie room and butchery on site, a rarity for restaurants in the UK
Our produce is superb and we work with the best suppliers in the country, be it farmers in the Lake District or local growers
Best thing about working here?
Working with incredible ingredients, and a good bunch of chefs, makes it a great place to work. But the best thing is seeing the faces of our guests after their experience and their appreciation of our hard work.
Favourite way to spend your day off?
Things are a little different at the moment of course, but typically I love playing football with the chefs from work. I also love following Liverpool Football Club and try to watch as many games as I can.
I enjoy cooking in my own kitchen for my girlfriend and reading cookbooks. This year we also became proud owners of a new pup too and I've really enjoyed taking her on long walks over recent months.
If you weren't a chef, what would you be?
I have always wanted to be a chef from a young age. Of course before that it was a professional football player, like most young lads! Being realistic though, I probably would have ended up becoming a fireman, or a barber!
> Click here to apply online today
---
Share this