Back
5 Nov 2020
5 Gift Wrapping Tips that will reduce waste and help you have a more sustainable Christmas
Guest blog by Louise Lewis, Professional Gift Wrapper 
Worried about the amount of gift wrapping paper you throw out at Christmas? Got half-used rolls and leftover bits of paper you were sure you would use up next year, stashed under beds and at the back of cupboards?
Here's my top tips for sustainable style when it comes to gift-wrapping this Christmas.
The Scrunch Test
Not all gift wrapping paper is actually recyclable. You may think that because it is paper you can throw it into your recycling bin with the rest of your recycling, but often this isn't the case. Some gift wrapping paper is coated and if you do the "scrunch test" it will just uncurl, whereas paper should hold firm. When you're buying paper look out for brands that are clearly labelled as recyclable and sourced sustainably. And absolutely avoid anything with glitter. Glitter gets into the water ways and is dangerous to marine life.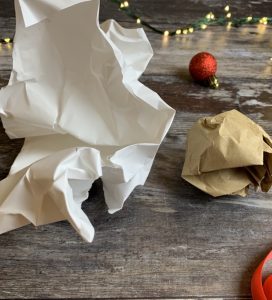 Mix it up
Join two pieces of leftover paper together. You know what it's like, you get to the end of a roll and there's not enough paper left to wrap that last gift…find a contrasting piece of gift wrap and stick them together. Kraft paper is ideal to have in the house as it goes with any leftover bits and the join can be disguised with a perfectly tied ribbon bow.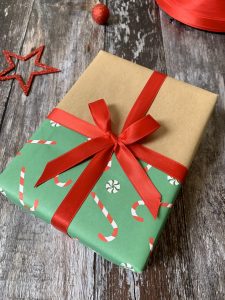 Add a band
If you have a piece of paper left that really is too narrow to add to another to create one big bit of paper, fold the edges and add as a band round your gift. A contrasting piece of paper to your main paper design or colour works really well and can be finished off with a ribbon bow.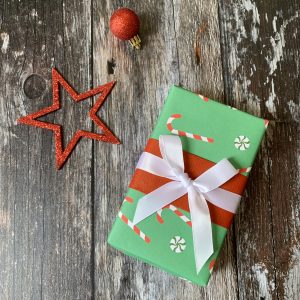 Make your own paper gift decorations
You might think that those really small bits left from your sheet of paper or roll are no good for anything. This is where you can get creative (tip: this is also a great way to keep the kids occupied!) If you normally buy bags of sticky bows, try making your own. They are really easy to make with 9-10 strips of paper and some sticky tape (watch my IGTV video on how to make them by clicking here).
You can also make simple fans to attach to the top. Add more than one if you have a few bits of paper left.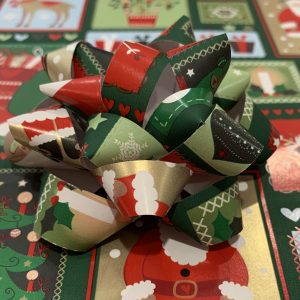 Use fabric or newspaper/magazine print
If you really don't want to buy gift wrapping paper this year use what you have around the house. Using sheets of newspaper or magazine pages is a great way to recycle. You can guarantee that no one will have the same paper as you too. The Japanese art of Furoshiki is wrapping using cloth. Using a scarf to wrap a gift is a gift that keeps on giving but you can use any cloth material, just check that it is large enough so you can tie it round the gift.
Louise is running Luxury Gift Wrapping Masterclasses at Moor Hall throughout December, which are currently sold out. Louise is offering virtual classes right up to Christmas, contact her for more information.
Email: louise@louiselewis.co.uk
Web: louiselewis.co.uk
---
Share this