Back
11 Jun 2021
Goosnargh Gin's ethos is formed on celebrating independence, provenance and the finest botanicals. That is why we selected this multi award-winning producer to channel their expertise into distilling Moor Hall's own gin, which proudly sits as a chapter in its own right in Goosnargh Gin's story.
Based at the foot of Beacon Fell, on the edge of the Forest of Bowland, an Area of Outstanding Natural Beauty, Goosnargh Gin is run by husband and wife team Richard and Rachel Trenchard. Each of their first four gins is designed to reflect, celebrate, promote and even give money back to the area in which they distil, with each gin having reason and depth of story as to why they are produced. Chapter Five – Moor Hall, is available exclusively from Moor Hall, sold by the serve or bottle. To celebrate World Gin Day, Richard and Rachel talk us through their five gins to date (we hear more are on the horizon soon), and offer their perfect serves.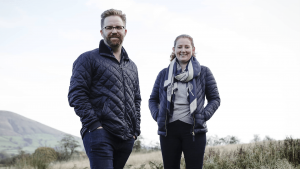 Chapter One – Signature Gin
Chapter One is where Goosnargh Gin's story began, with its launch in October 2018. Featuring botanicals which are able to be found growing naturally in the Forest of Bowland, Chapter One features chamomile, elderflower, yarrow and meadowsweet.
Chapter One was awarded a gold medal in the prestigious International Wines & Spirit Competition, one of only a small number of the 800 gins from around the world to do so in 2019.
The perfect serve for Chapter One – Signature Gin is with a herbal style tonic, and a small sprig of fresh thyme. Alternatively, use Chapter One in a classic Bramble cocktail.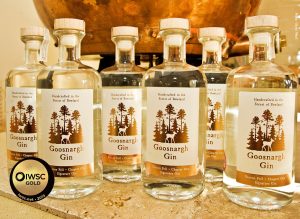 Chapter Two – Dark Skies
This gin was created to pay homage to those areas of the Forest of Bowland which have been designated Dark Skies areas, meaning the low levels of light pollution make them superb for stargazing. Featuring cardamom, cloves, root ginger, a whisper of aniseed and vanilla to temper the spices, this gin is a warming, savouring drink, perfect for sitting outside when conditions allow stargazing, or hunkering down in front of a fire if they don't.
Again, this gin has been successful at the IWSC in 2020, while also scooping a silver award in the International Spirits Challenge in the same year.
Drink this gin with a straight Indian tonic and garnish with a 'full moon' thin slice of orange. Dark Skies also makes a beautiful Negroni. Pair equal parts Dark Skies, Campari and vermouth (Goosnargh Gin recommends Paso Primero's Paso-Vermu for a deep, complex profile), and garnish with orange.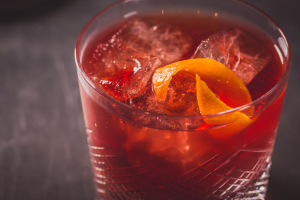 Chapter Three – Floral Notes
Floral Notes reflects the country garden at the distillery, right at the base of Beacon Fell, and uses our three favourite florals – rose, hibiscus and peony.
We chose the elegant Duchesse de Nemour peony to use in this gin, a mid-19th century variety which are grown using organic methods by a renowned peony specialist.
Incredible in both scent and flavour, limited numbers of bottles of this gin are made available each year.
The perfect serve for Chapter Three is a classic Indian tonic and a rose petal garnish. Alternatively, enjoy a rose Martini with Chapter Three – Floral Notes, combining two parts of this gin with one part dry vermouth and plenty of ice in a cocktail shaker. Shake and strain into a cocktail glass before adding a dash of grapefruit bitters. Garnish with a rose petal for an elegant summer sip.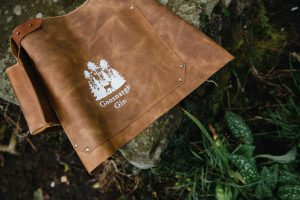 Chapter Four – Hay Time
Chapter Four uses botanicals foraged from Bell Sykes, a heritage hay meadow in Slaidburn, in the heart of the Forest of Bowland. A designated Site of Special Scientific Interest, Peter's site plays host to around 55 species of plant, including yellow rattle, bush vetch and common sorrel. A slight natural sweetness derives from the nectar which is stored in each floral, which is vapour infused during distillation.
Again, a limited number of bottles of this gin are produced each year, part of the proceeds of which go back to a project in the Forest of Bowland which helps spread Peter's meadow further each year.
The perfect serve for Chapter Four – Hay Time is a classic Indian tonic and a thin slice of fresh green apple.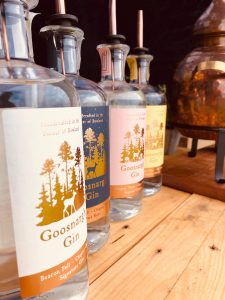 Chapter Five – Moor Hall
Chapter Five was created in collaboration with Mark Birchall and is produced to reflect the understated elegance and attention to detail for which Moor Hall is renowned. One of the key botanicals which had to feature in this chapter, which will come as no surprise to those familiar with Mark's menus, is lemon verbena. Vapour infused, it offers a crisp, fresh finish to this gin.
Other botanicals include chamomile, wood betony and marshmallow root, which give the gin a delicate and elegant smoothness.
This gin is perfect served simply with Indian tonic and lime to compliment its aroma and flavour profile. It's a pleasure to work with Mark and his team, It is always a joy when we deliver a new batch of Chapter Five – Moor Hall to this special and beautiful setting.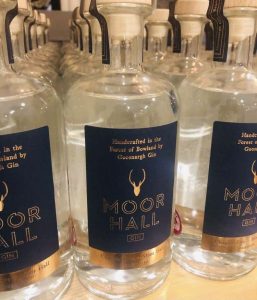 Goosnargh Gin sell each of their first four chapters online. You can also order gift packs or find out more about their Gin School or Experiences by clickING here. Chapter Five – Moor Hall, is available at Moor Hall Restaurant and The Barn at Moor Hall. Speak to a member of the team on your next visit.
---
Share this