Back
15 Apr 2022
Introducing The Moor Hall Espresso Martini
A twist on the classic cocktail.
The Espresso Martini is traditionally a mix of Vodka, coffee liqueur, and espresso. For the Moor Hall version, we decided to use Pedro Ximenez from an iconic bodega instead of the classic mix as we wanted to bring more complexity and reduce the sugar content. The ideal digestif, our martini is prepared at your table, in the lounge after dinner.
For the espresso, we use the ROK espresso machine; an environmentally friendly, non-electric, manual espresso maker. ROK Espresso Maker brings a non-electric, hands-on solution to making espresso, without the waste of pods. The coffee beans are Difference Coffee – Brazil, Yellow Bourbon. This 100% Specialty Arabica of the Yellow Bourbon Variety exhibits soft notes of cocoa, caramel, and hazelnuts with light citrus acidity.
In place of the standard coffee beans you would expect to see, we finish the cocktail using a pipette and pour 3 drops of 1946 P.X. Toro Albala – this wine is a legend. It is a Pedro Ximénez made from the first grapes harvested after World War II in Montilla-Moriles, the neighbouring area of the D.O. Jerez-Xéres-Sherry, specialised in Pedro Ximénez.
Don P.X. Convento 1946 vintage was one of the first three sherries ever to receive 100 points in Robert Parkhiser's Wine Advocate.
It's a sweet wine, made from grapes that are dried in the sun, before being pressed. That way, the must will only partially ferment and high levels of sugar will remain in the wine. It is then rectified with grape alcohol, it rests for around a year in inox tanks before being decanted and poured into barrels for maturation.
A must-try when you visit Moor Hall restaurant…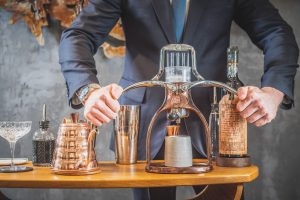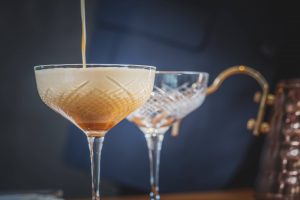 ---
Share this