Back
12 Nov 2021
We are proud to support the following charities…
StreetSmart UK.
During November and December at Moor Hall Restaurant, we will be supporting the incredible charity, StreetSmart UK by asking all diners for a voluntary £1.00 per bill donation. Funds raised will go directly to the team at StreetSmart UK who work with numerous charities around the country to provide aid to the homeless. 
Our Chef Patron, Mark Birchall says "Unfortunately, homelessness is a very real and growing issue all over the UK. The discretionary £1 donation is a small contribution which can make a huge difference. We are so pleased to be able to support this cause and the incredible work that StreetSmart does."
About Streetsmart UK
StreetSmart has raised over £10 million since its foundation. Over 50 homelessness charities now benefit each year, with funds supporting services like the creation of beds, housing, mental health advice, and training and job support. And what's more, 100% of all funds raised stay local as the charity's costs are covered by their partners LandAid.
All money raised through dining out will contribute to achieving impactful social change, supporting those most vulnerable, living on the streets and in unsuitable accommodation. And with a reported 400,000 people currently at risk of eviction in the UK, the numbers needing help are set to rise.
Read more about StreetSmart UK
 
Sandy Park Café.
We continue to support Sandy Park Café, a local not-for-profit social enterprise helping young students with special needs & disabilities (SEND) from Sandfield Park School in Liverpool to gain valuable work experience.
We regularly host students on educational visits throughout the year, offering first-hand experience in the kitchen. Mark also creates dishes for the Café and offers support with their menu development.
Since launching the collaboration over twelve months ago, incorporating the same £1 per bill mechanic, we have raised over £14,000.
Mark says: "It's a fantastic cause to be involved with, it's really important that all young people are given the opportunity to thrive in the working world. Sandy Park Café gives these students a footing into the hospitality sector along with the confidence and skills to succeed, so to be supporting their vision in an official capacity is great."
Sandy Park Café is run by Student Futures, a Charitable Trust registered with the charity commission, charity number 1180845.
Read more about Sandy Park Café.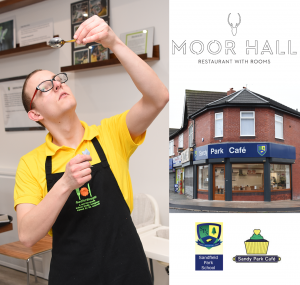 ---
Share this