Back
24 Sep 2021
We are delighted to announce an exciting partnership with Castle Fine Art
We are pleased to welcome Castle Fine Art in a new and exciting partnership. We invited their Liverpool gallery to curate a bespoke display of artwork to feature across our award-winning restaurant and bar areas.
We opted for bold, contemporary pieces to which offer a striking juxtaposition from the traditional 16th-century surroundings. Featuring wall sculptures by Frédéric Daty to iconic graphics by Bob Dylan and stunning abstract work by Alex Echo, you can find the pieces within the restaurant, Private Dining Room, and Bar.
Chef Patron, Mark Birchall had this to say: "Like every great artist, every great restaurant will have its own identity. For me, art is a key component of the experience we have created for our guests here at Moor Hall."
About Castle Fine Art
As the UK's leading art retailer, Castle Fine Art has been at the heart of the contemporary art movement since 1995. Uniting collectors across the globe with their diverse range of original and limited edition art, they are committed to their motto, Your World, Our Art®.
In the journey to make art accessible for all, they have worked alongside collectors, staff, and local communities to discover the new generation of artistic talent. Their portfolio now features some of the biggest names in art, including Billy Connolly, Marvel, and Bob Dylan.
To find out more about Castle Fine Art, visit any of their 38 galleries across England, Scotland, and Wales.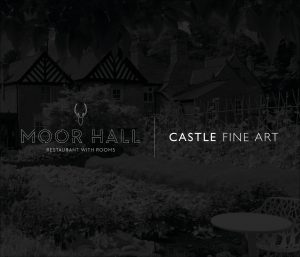 Take a sneak peek at the collection…
Altered Imagination | Stuart McAlpine Miller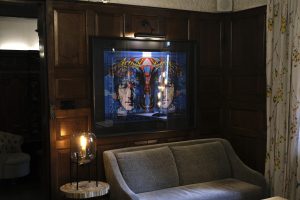 Scottish artist Stuart McAlpine Miller is known for his contemporary Pop Art creations, which expertly layer imagery of celebrities, comics, and best-loved cartoons. Using subtle tones of paint, Stuart creates the illusion of transparency. The overall effect is similar to looking through a glass bottle, distorting the image, and presenting a different version of the same subject. In turn, a far-fetched reality is created, highlighting the unrealistic expectations of today's society.
Liverpool Waterfront | Frédéric Daty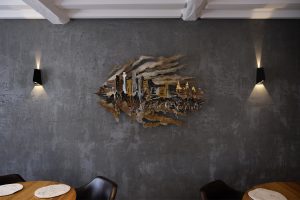 The École Brassart graduate works with steel due to its raw, primal quality. Light and shadows play an essential role in his art, as the light animates the metal and plays with it, changing the colour and giving the impression of life. Scenes include iconic branding, animals, landmarks, and references to popular culture, including scenes from television programmes and comic books.
Frédéric says: "The light animates the metal and plays with it depending on the time of day and movements of people in the room. Although the metal itself is static, its changing surface and colour give the impression that it is moving and
evolving."
You can find these pieces and the rest of the collection at Moor Hall Restaurant with Rooms.
---
Share this