Back
30 Apr 2021
Talk us through a typical day for you.
My day here at The Barn consists of a mix of office work and overseeing the restaurant service. In the morning, I will liaise with Head Chef Nathan regarding menus and the food offering for that day, I will also brief the team on their roles for the day and ensure all the systems and paperwork are in place to guarantee smooth operation.
My favourite parts of the day are the lunch and dinner services and ensuring the best experience possible for all our guests. I am an 100% extrovert and thrive in social situations and love welcoming everyone to the restaurant.
How did you first get into the industry?
My first ever hospitality role was when I was at university. I have always enjoyed earning my own money and was looking for a part-time role. A new casino was opening in the city and were advertising an open recruitment day in the local newspaper. I decided to try my luck and was immediately spotted by managers and offered an interview. I successfully secured a waitressing role in the restaurant there and never looked back!
What are your top three highlights from your career to date?
Whilst being a waitress, getting promoted to my first supervisor role and being told I have a lot of potential and can go far in this industry by one of my mentors at the time
Opening a restaurant for Tom Kerridge and working with his team. This has elevated not only my career but my experience also. I learned a lot and will always be grateful
Being offered the opportunity to manage The Barn and really turn it into something special. Receiving 3 AA Rosettes was just wonderful. There is tons of opportunity and I am surrounded by a very talented team
What's your favourite dish & why?
At the moment my favourite dish is our Grilled asparagus starter. It's everything you want at this time of year, a real seasonal treat. It comes topped with Berkswell cheese mouse which is divine!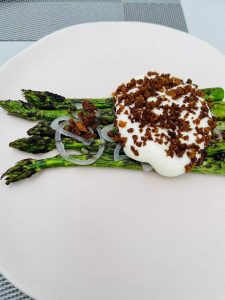 Top reasons to visit The Barn?
The food, the staff and the surroundings. Our menu compliments the beautiful grounds and restaurant we are lucky to be based in, and the staff all have great personalities and want to ensure everyone gets the best service possible.
Best thing about working here?
We are a small company which means we have the freedom to change things quickly and everyone's opinion matters. I very much treat the restaurant like my own and have a lot of say in how things are ran.
Favourite way to spend your day off?
I have two! Either out, visiting National Trust estates with my dog or enjoying a meal with friends in a nice restaurant in a city.
If you weren't a Restaurant Manager, what would you be?
I studied Theatre Arts at university, therefore I think I would have liked to have done something in that field. I enjoyed directing plays as well as performing.
> Click here to apply online today
---
Share this