Back
28 Apr 2021
Talk us through a typical day for you.
My day begins by reviewing the reservations and guests we have joining us for lunch. I communicate with the team any specifics and I make sure all the calligraphy on our handwritten cards (for guests that are celebrating) is on point. We then prepare the dining room for the first service of the day. Restaurant "checking" is one of my favourite and most important parts. Ensuring it all looks perfect! Aligned tables, shiny cutlery, polished plates…
During service my main focus is for everything to run smoothly; I try to be in continuous communication with the chef on the pass, I always aim for our guests to have everything they want (and more!) and for the Front of House team to feel confident with their duties. Sometimes I feel like the "maestro" of an orchestra!
Lunch usually ends around 4pm, where we take a small break, enjoy our staff meal all together, and get ready to do it all again for dinner service.
How did you first get into the industry?
While doing my Bachelor in Theatre Studies, I decided to work during my summer break in a Japanese fine dining restaurant in Mykonos. I enjoyed the action and the atmosphere so much that I decided instead of doing my thesis, I would work a winter season in St Moritz. After that it was crystal clear for me that hospitality was the right path, and I never looked back.
What are your top three highlights from your career to date?
While working as a Storyteller at Heston Blumenthal's The Fat Duck in Bray, I was part of the first ever "Inspiration Lunch". An opportunity for young hospitality professionals to come and experience (with our compliments) the menu, the wine list, and service. It was a magical moment for our industry, with a lot of hard work put behind it.
Spending a day "observing" in the kitchen of Corey Lee's Benu in San Francisco. I was absolutely stunned by the service. It was like a choreographed silent dance. Everyone knew what they were doing at all times! And the food; it was pure authenticity and looked like Art.
It has to be becoming part of Moor Hall. Although it's only the beginning, I am certain it will be a lifetime highlight. I started working in fine dining as a commis and even that felt like a major opportunity for a young adult without any hospitality training. Growing within this industry enough to manage a restaurant like Moor Hall still feels surreal some days!
What's your favourite dish & why?
That's a hard one, because there are so many seasonal dishes and that's what I like the most about our cuisine. If I had to pick one, I'd say our Carrot dish. I love it because we use a vegetable from our garden as the main feature of the dish and not as a garnish, we then pair the carrot with incredible flavours of wild garlic pesto, and add texture and creaminess with some Doddington cheese snow.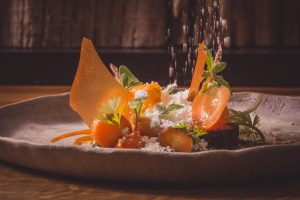 Top reasons to visit Moor Hall?
Seasonal cuisine that uses outstanding British produce. Unique flavours paired wonderfully together and courses that showcase each ingredient in its full bloom
Sharp and refined yet friendly and personal service!
Lastly, a walk in our garden has to be one of the most peaceful things you'll get in this part of the country
Best thing about working here?
Apart from all of the above, the surroundings. I never thought England could be so beautiful and we are fortunate to work in some of the most "well taken care of" premises.
Favourite way to spend your day off?
I love baking and I try to make something at least once a week. When I don't bake I usually spend my time doing yoga, or talking about what I'll cook next!
If you weren't a Restaurant Manager, what would you be?
I think I'd like to teach young kids how to cook. Sounds challenging but so rewarding as well! Cooking, and having the freedom to be creative in the kitchen from a very young age shaped me to who I am today, both professionally and personally; so I think I'd like to give this opportunity to others as well.
> Click here to apply online today
---
Share this